Life Insurance Facts
Australians and Life Insurance
One of the most unfortunate facts about life insurance is that very few Australians have enough.
Of the world's developed nations, Australia ranks as one of the lowest when it comes to Life Insurance cover.1 In fact, only 5% of Australians have adequate life insurance.2 As can be seen in the following infographic, this is in stark contrast to the number of Australians who insure the cars, houses and contents.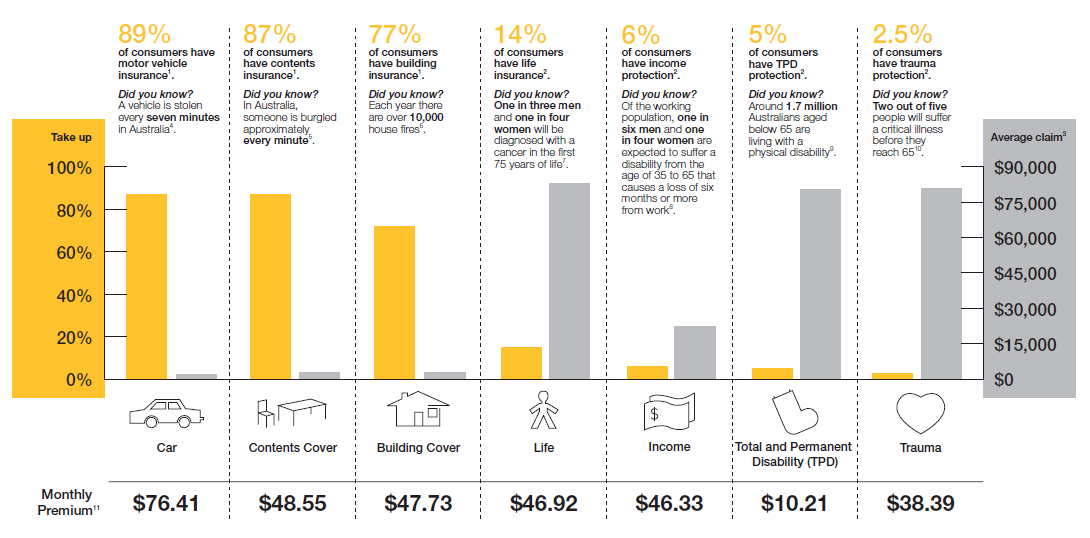 Why is it that Australians take such a nonchalant attitude to Life Insurance? Some claim it is due to cost, but as can be seen in the graphic above, life insurance costs are not overly different to the cost of insuring your car or home; especially when you consider the much larger average benefit payments that are made.
After years of helping our clients improve their financial protection, we have concluded there are two primary reasons Australian's don't have sufficient life insurance:
They are not sure how much life insurance they need or how to go about getting it
They subconsciously believe (or perhaps hope) "It won't happen to me"
Through our innovative Life Insurance Calculator and Life Insurance Application tools we believe we've gone a long way to solving the first reason.
If you thought hard enough, you'd probably surprise yourself at the number of people you know who have been directly impacted by the unexpected death, accident or illness of a loved one. However, in an attempt to demonstrate more clearly just how likely it is that you'll be impacted by an insurable event, we've compiled this page of statistics.
More information about the different types of insurance can be found on our Life Insurance FAQ page
Life and Disability Insurance Statistics
One in five families will be impacted by the death of a parent, a serious accident or illness that renders a parent unable to work;2
60% of families with dependants will run out of money within 12 months if the main income earner dies10
For Australian families with children under the age of 5, the median amount of debt is $167,0008
The average life insurance payout is $91k9
Income Protection
Over a working lifetime of 40 years, the average Australian earns around $3,000,00011
1 in 3 people of working age will suffer an accident or a serious illness that will keep them off work for more than 3 months5
Trauma Insurance Statistics
Women are five times more likely to make a trauma insurance claim than a life insurance claim3
1 in 2 men and 1 in 3 women will be diagnosed with cancer before the age of 8512
Five year survival from all cancers combined increased from 47% in 1982 – 1987 to 66% in 2006 – 20104
One in six Australians are affected by cardio vascular disease
Nearly 1,000,000 Australians are currently diagnosed with diabetes
Life Insurance Companies Claims
Sources
Swiss Re Economic Research & Consulting , 2007
Lifewise/NATSEM Underinsurance Report, 2010
MLC Insurance Claims Statistics
Australian Institute of Health and Welfare (AIHW)
Australian, Institute of Actuaries of Australia 2000. Interim Report of the Disability Committee
www.heartfoundation.org.au – Data and Statistics
www.diabetesaustralia.com.au – Understanding Diabetes
ABS – National Income, Expenditure and Product, Dec 2008
IFSA 2008
TNS Research – Underinsurance Report – 2005
ABS – average weekly earnings for full time employees – May 2012
Australian Cancer Council
Insurance Council of Australia, Consumer Tracking Survey, January 2006